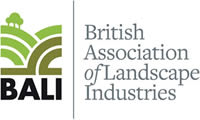 British Association of Landscape Industries (BALI)
www.bali.org.uk
About British Association of Landscape Industries
The British Association of Landscape Industries (BALI) aims to promote, support and inspire all professional landscapers, garden designers and landscape suppliers. It wants its members to be leaders of the environmental, ethical and sustainable landscape industry.

BALI wants to be the main trade association for landscapers and gardeners. It only allows members that are qualified and also encourages members with specialist skills in trades such as disabled gardens and hydroseeding.

To protect customers, BALI operates a code of conduct that members must adhere to. The code includes maintaining high standards of business and ensuring that all staff are up to date with training and professional development.

BALI also has a Dispute Resolution Service, which provides protection for customers and contractors if something goes wrong. If there is a dispute, BALI will offer mediation to try to resolve the issue. If they can't, they will organise an independent third party to offer adjudication.

The Association has a quality statement to show customers what they should expect from a BALI member. The objectives include encouraging the highest standards of quality and workmanship as well as promoting the landscape industry's role in creating an improved environment.

BALI supports 4 charities: BALI Chalk Fund, Greenfingers, Thrive and Perennial. These charities exist to support education and training in the landscape sector, support children who use hospices, bring about positive change in the lives of the disabled through gardening and offer advice and assistance to people working in or retired from the landscape industry.