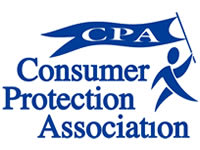 Consumer Protection Association (CPA)
www.thecpa.co.uk
About Consumer Protection Association
The Consumer Protection Association (CPA) is a top UK consumer protection agency. It is the number one source for connecting accredited home improvement contractors with consumers. The Financial Conduct Authority regulates the CPA, and they offer a range of products to protect customers when purchasing home improvements.

Tradespeople who are CPA members can prove to customers that they are legitimate and take pride in their work. The CPA only deals with accredited contractors and it vets them for professional competence. It offers training and certification schemes which shows customers that the work carried out will be of a high standard. Tradespeople can also offer their customers protection schemes if they are members of the CPA. The CPA also provides sales and marketing materials like ID cards and posters which help to increase a firm's professionalism and show consumers that they are reputable members of a trusted scheme.

The CPA protects consumers by only accepting tradespeople with the best reputations and work history. It also offers a range of consumer protection schemes to support customers before, during and after they have any work done. Its Insurance Backed Guarantee protects the client from any unforeseen circumstances; the Deposit Protection Scheme ensures that consumers don't lose their money. Customers are also asked to fill out a works questionnaire that they submit to the CPA for independent checking, which is then collated to produce a performance report. This means that customers are always able to check that tradespeople are as good as they say they are.

Consumers have access to the CPA's dedicated team to answer any questions give advice should a problem arise. The CPA's consumer protection specialists can also help with any issues related to the work carried out in the customer's home by a CPA member.