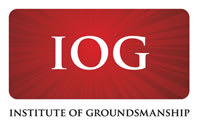 Institute of Groundsmanship (IOG)
www.iog.org
About Institute of Groundsmanship
Established in 1934, the Institute of Groundsmanship (IOG) aims to develop and raise the profile of the groundscare industry, represent its members and offer high quality training and support. It works with the National Governing Bodies of Sport to develop sport and sporting surfaces in the UK and Ireland.

The IOG organises local, regional and national events including seminars, conferences and awards programmes. It also works with colleges and awarding bodies to make sure they are able to provide educational opportunities for all sectors of the groundscare industry. This helps to improve the standard of the groundscare industry and show customers that IOG members are suitably qualified to carry out work for them. Full-time students are offered free IOG membership, which helps to keep highly skilled professionals in the industry at all times and ensures that they have the relevant qualifications when they start trading.

Corporate members of IOG are allowed to use the logos on their business materials to show excellence and expertise, and they are also listed on the IOG website. This enables customers to search for a reputable groundsman with the confidence that they are highly skilled and take part in ongoing training.