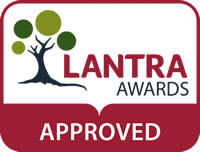 Lantra
www.lantra.co.uk
About Lantra
Lantra is an awarding body for land-based and environmental training courses and qualifications. It has over 40 years' experience in developing training and qualifications for people in industries such as tree surgery and groundcare.

Lantra is regulated by Ofqual, SQA and Qualification Wales. All of its qualifications are nationally recognised. It aims to have a key role in the development of the Qualifications and Credit Framework initiative, and prides itself on building a robust, credit-based approach to qualification development.

The body reviews their assessors, providers and instructors every year to ensure that they are working to Lantra's high-quality standards. It also carries out quality assurance visits regularly. All instructors must have the 'Lantra Awards Approved' status in order to deliver its courses. That means you can be sure that tradespeople with a Lantra qualification have good knowledge and understanding of the qualification that they have achieved.