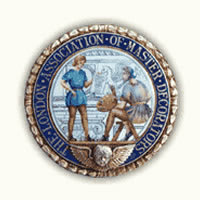 London Association of Master Decorators
www.lamd.co.uk
About London Association of Master Decorators
The London Association of Master Decorators (LAMD), founded by Henry Campbell in 1908, united with the National Federation of Master Decorators of England and Wales in 1917. The LAMD includes decorating firms operating in the London area, defined by the boundaries of the M25. Membership is also available to contractors outside of the area but who may work within central London.

Members of the LAMD can display the LAMD logo, adding prestige to their company. It assures clients that they are employing competent tradespeople. The LAMD is still united with the National Trade Body for the industry so it is recognised as a branch of the trade association.

The LAMD recommends choosing one of their members to carry out decorating work as customers can be sure that they are using a firm backed by the industry trade association. It argues that cheapest is not always the best in the long term and it is best to use a professional specialist. Customers can find members of the London Association of Master Decorators by phoning for a list. They can also log on to the Painting and Decorating Association website and use the member directory.