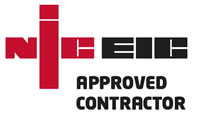 NICEIC
www.niceic.com
About NICEIC
The National Inspection Council for Electrical Installation Contracting (NICEIC) is a regulation body for the electrical industry. It assesses the competence of electricians and has a roll of over 26,000 registered contractors.

Established in 1956, NICEIC also provides certification to the heating, plumbing, renewable and insulation sectors. It offers services such as training and technical advice to members to help them to begin long-term planning.

NICEIC has a good reputation. Over the years they have become known for promoting safety, integrity and technical excellence. Members go through a strict assessment process during application, where NICEIC inspects their work and premises. They must provide documentation and prove the competence of their supervisory staff. NICEIC continually re-assesses members to make sure they are still compliant with NICEIC's standards.

NICEIC has a Customer Charter which makes public commitments to providing excellent customer service. Some of the promises include delivering a timely and professional service and providing quality advice and expertise. NICEIC measures and reports back on the results, and encourages customers to provide feedback on the service they have received.

Certsure is NICEIC's third party certification scheme. It makes sure that the certification provided by its contractors is impartial by managing any potential conflicts of interest. Certsure has developed processes which mean that no certification will be cheaper or easier.

The NICEIC website provides a search function to allow consumers to search for NICEIC registered contractors. NICEIC covers contractors with all the relevant insurance so they can protect customers' investments. NICEIC recommends that customers use one of their members as NICEIC holds them to account over their work and customer service.