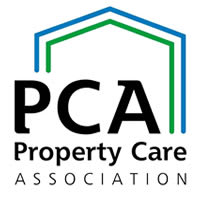 Property Care Association (PCA)
www.property-care.org
About Property Care Association
The Property Care Association (PCA) aims to promote the standards of professionalism in the property care industry through training and support services. It represents its members as the best providers in a variety of sectors. These include structural maintenance, damp and condensation control and flood protection.

The PCA promotes the work of specialist contractors to clients, aiming to be the industry voice for its members. It works with government departments and responds to consultation documents. They are at the forefront of developing new guidelines, ensuring that they are in the best interests of its members.

Members of the PCA have to observe strict criteria to be able to stay a member. They are also audited on a regular basis to ensure that the PCA's members are operating to the highest standards, helping the association to promote excellence. The PCA checks company systems and procedures, health and safety practices and staff development. It also carries out site inspections to ensure that good practice is upheld in domestic and commercial premises.

PCA is a founder member of TrustMark, which is a government backed scheme to help consumers find reputable tradespeople. Its members can prove to customers that they are reliable and competent through this scheme.

Consumers can benefit from choosing a PCA member to carry out any property care work. PCA members offer Insurance Backed Guarantees which protect the consumer should there be any faults in their work that need rectifying. It will still protect the customer even if the firm has ceased to trade, so that they do not have to pay for any remedial work that needs carrying out during their long term guarantee.

The PCA also offers a 'Find a Property Care Specialist' facility on their website where customers can search its database of PCA members to find a reputable contractor.