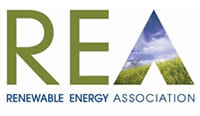 Renewable Energy Association (REA) (REA)
www.r-e-a.net
About Renewable Energy Association (REA)
The Renewable Energy Association (REA) is a non-profit trade association representing British renewable energy products and promoting the use of renewable energy in the UK. Established in 2001, it helps its members to create commercially and environmentally sustainable businesses. It also aims to increase the contribution of renewable energy to the UK's electricity, heat, transport and green gas needs.

Following a merger with the Association for Organics Recycling in 2013, REA membership now includes composters. It works to construct the appropriate regulatory framework for renewables and organic waste recycling. REA members are active across the whole spectrum of technologies and renewable energy applications, so customers can be confident that any REA member is highly skilled and adheres to regulations. They range from large multi-national companies to individual traders.

The main aim of the REA is to campaign for the best legislative and regulatory framework for expanding renewable energy production in the UK. It also wants to maximise organics recycling. It holds conferences and seminars for its members, as well as providing training courses and career opportunities. These include programmes on the Renewable Heat Incentive, Feed-in Tariffs and PAS 100. This gives customers reassurance that REA installers can offer them a high standard of service.

The REA sponsors the Renewable Energy Consumer Code (RECC). It was set up to guarantee a high quality experience for consumers who want to buy or rent small generation units for their home. If a supplier has RECC membership, it means that they have agreed to adhere to the standards set out in the Code. The Code is backed by the Trading Standards Institute as part of its self-regulation scheme. The RECC logo is a symbol of professional excellence, so customers can recognise that the supplier is competent and trustworthy.
Just a few of our quality pros