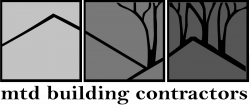 MTD BUILDING CONTRACTORS
29 Colford Close, Droitwich, WR9 0RS
MTD BUILDING CONTRACTORS

Whether you're looking to build a dream home, restoring or extending an existing home, our dedicated and professional team can make sure you get the build you are looking for.

MTD contractors has helped to take the stress out of building and renovating across the Midlands for the last 15 years.

Our team is always ready to answer any questions and offer knowledgeable advice throughout the construction process. You'll have a building you can be satisfied with for many years to come.
We have undertaken many different contracts including, Droitwich Spa Boxing Academy, Stanbrook Abbey and bespoke new build properties.
Company Details
Number of employees:
10 to 19
Public Liability Insurance:
Expires: 16/08/2016
MTD BUILDING CONTRACTORS Services
MTD BUILDING CONTRACTORS offers services. They are based in DROITWICH and cover a number of areas across the UK.
Services offered by
MTD BUILDING CONTRACTORS
Showing 0 reviews
Sort by: Most Relevant

Most relevant

Newest

Oldest
Filter by job type: All services
Filter by star rating: 5 stars

5 stars

4 stars

3 stars

2 stars

1 star
MTD BUILDING CONTRACTORS Reviews
See what previous customers have to say about MTD BUILDING CONTRACTORS. Our closed review system ensures that only genuine customers are able to leave reviews, so you know you're reading real feedback about MTD BUILDING CONTRACTORS. Read 0 honest reviews.